About Us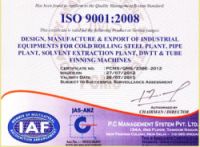 Established in the 1997 in Indore, Madhya Pradesh (India), Pragya Precision Equipment is scaling heights under the leadership of Mr. L C Tolani (CEO). Owing to his domain expertise, the company is able to serve a huge number of clients efficiently.

Research & Development
Product development and innovation and are at the core operational values of our business. From maintaining the accurate composition of chemicals to the formulation of new advance grade chemicals, the company is relentlessly pushing the boundaries on advancements that drive excellent business outcomes.

Supply Chain & Logistics
Eco-House Art & Craft Inc. has created a network of top-notch warehouses with cutting-edge facilities to remarkably enhance the operational efficiencies, thereby reducing costs. These facilities will also ensure seamless delivery of the finer quality chemical products to our clients.

Manufacturing and Raw Materials
With an objective of sustainable product development, the company endeavors to be ahead of conventions through implementing best practices and advanced technologies to ensure that its chemical formulation activities cause negligible environmental impact.